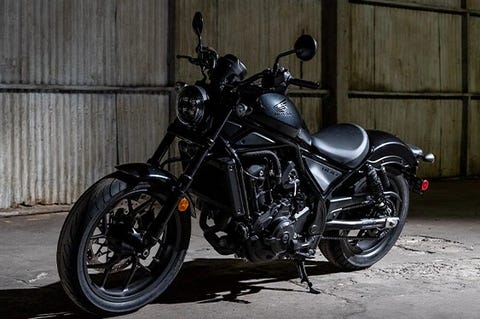 Ever since it hit the market five years ago, I have been intrigued by the Honda Rebel. What jumped out to me was that in terms of looks, power and price, it seemed like the perfect little city cruiser — and a great option for novice riders too.
After all, the naked silhouette appeared simultaneously fierce and fun, the 471cc parallel-twin engine promised enough power to zip around town, and the price (around $6,000) felt pretty hard to beat. Meanwhile, the combination of a roughly 27-inch seat height and 400-pound weight pointed toward something even first-timers could handle with relative ease.
Honda believes in this bike, too, as it has followed up the original Rebel 500 with a couple of additional sizes: the 300 (with a 286cc engine) and, more recently, the 1100 (with a 1084cc engine).
The latter model caught my attention because suddenly, it seemed like a bike you could take far beyond the city limits. So when the opportunity for seat time on one presented itself recently, I hopped on board. Here are the big takeaways after a few weeks of ripping around on city streets and country roads.
Is the Honda Rebel 1100 new?
It's new-ish. The 2022 edition of the latest, greatest and biggest Rebel yet rolled out earlier this year.
What makes the Honda Rebel 1100 special?
This bike presents many of the same upsides as its smaller older brother, but in a super-powered form. After all, the dimensions are not so different that they would put off a beginning rider. Topping out at 509 pounds fully loaded, it weighs about 100 pounds more than the Rebel 500, while the seat height of 27.5 inches is less than half an inch taller. The price remains relatively approachable — base of $9,399, $3,000 more than the 500.
Where you are most likely to feel the difference is on the highway, when you are splitting the gaps between semis and busses and needing all the power, speed and high-end acceleration you can get to hold your own. Having personally test-ridden bikes all along the displacement spectrum, from the 349cc Royal Enfield Meteor 350 to the 1890cc Indian Chief Dark Horse, I was curious to see what this one could deliver. After all, engine size is just a number until you hop on the bike and see how all its components interact as your start moving through the gears.
Another thing that stands out about the 1100 is that it's the only Rebel available with a little something called Automatic DCT. That stands for dual-clutch transmission, which means you can ride the bike without manually shifting. I have some, ahem, strong feelings about this $600 option, a topic I'll get into later in this review.
How does this Honda ride?
Pretty damn smooth. Honda pulled and adapted the liquid-cooled four-stroke parallel-twin engine from its excellent Africa Twin adventure bike, a move that gave me high expectations. So I took it on a couple of longer rides — from Newburgh, New York to NYC (64 miles) and later from NYC to New Paltz (81 miles) — and also bopped around the city a bit.
On the highway, I found it had exactly what I had hoped: with the power of 86 horses and 72 lb.-ft of torque, it provided more than sufficient pop and acceleration, even at higher speeds. When those moments arose that I needed to jump from, say, 60 to 80 in a flash, the Rebel didn't blink. A quick twist of the throttle was all I needed to pass slower-moving vehicles and open things up when the road allowed for it. Four power delivery modes — standard, rain, sport and custom — plus cruise control make it easy to get in the flow, no matter how big or small the road is.
The bike proved pretty capable when moving around the urban scene as well. It's narrow enough to slip through traffic without drama while supplying enough torque to keep you nimble and adaptable. The wide, 16-inch rear tire, nitrogen-filled rear shocks and available anti-lock brakes help less experienced riders will keep the shiny side up. The relatively light weight and the low seat make this Rebel super easy to park.
No passenger reviews for this model, as the stock 1100 is a one-seater. However, a passenger kit — including a color-matched seat and footpegs — is one of nearly 30 accessories available from Honda for the relatively low price of $139.95.
Anything else stand out about this cruiser?
I'll just come right out and say it: When I heard the 1100 available for testing was one of the DCT models, I almost passed on the whole affair. I am kinda old school in the sense that I believe part of the essence of motorcycling is learning how to shift.
Training your hands and feet to work in concert to monitor your speed, pull that clutch lever, find the friction point and flick the peg to shift gears — all while relying on your other hand and foot to accelerate and brake — is challenging, yes. But it is such a satisfying feeling to master. And as someone who took up motorcycling in his early 30s, I can tell you that it's not something you must grow up doing to understand and embrace.
While the DCT edition does offer the option of paddle-shifting — through a couple of right handlebar-mounted finger shifters — it's not the same. So what you really get for $600 more is a bike that's much easier to ride — and in my humble opinion, almost totally soulless. I mentioned the DCT element to a couple of moto vets — the guy who towed my personal, tortured Triumph Bonneville T-100 to a shop for repairs and the guy running the shop — and they had a similar reaction: if you're not shifting, why ride a motorcycle?
This content is imported from YouTube. You may be able to find the same content in another format, or you may be able to find more information, at their web site.
That video kind of answers the question, from Honda's POV, anyway — and I recognize that my take is almost as retrograde as hating on e-bikes. Because the other reality is that I want as many people on motorcycles as possible, and not only because they are super fun and convenient. The other, perhaps bigger reason is that the more people ride, the more aware they will be of motorcyclists when they drive — and the less likely they'll be to kill us.
In other words, if the choice is between a car and a DCT motorcycle, go for the motorcycle. But if you want to understand what motorcycling is all about, go for one of the 95 percent of bikes with a manual transmission. While I have not had a chance to ride it myself, I reckon the manual version of the Rebel 1100 is a pretty good choice.
How much does the Honda Rebel 1100 cost?
The base price of the Honda Rebel 1100 is $9,399 for all three colorways: Pearl Stallion Brown, Metallic Black and Bordeaux Red Metallic. The base price for the DCT version is $9,999.
2022 Honda Rebel 1100
Engine: 1084cc liquid-cooled Unicam four-stroke 22.5° parallel-twin
Gearbox: six-speed manual or six-speed Automatic DCT
Horsepower: 86 hp
Torque: 72 lb-ft
Curb weight: 487 pounds (manual); 509 pounds (DCT)
Seat height: 27.5 inches
Top speed: 140 mph
LEARN MORE
This content is created and maintained by a third party, and imported onto this page to help users provide their email addresses. You may be able to find more information about this and similar content at piano.io