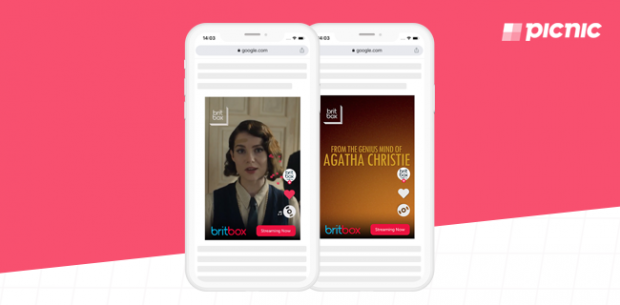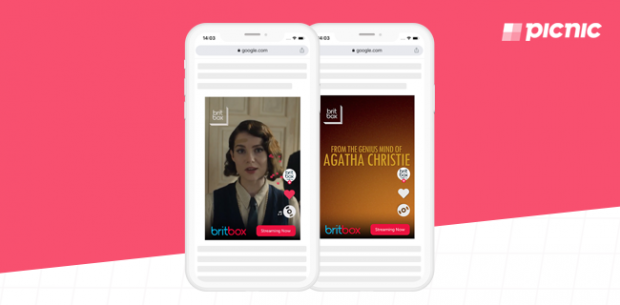 Streaming service BritBox has worked with Total Media and Picnic to drive subscriptions via an entirely new mobile ad format called Clips. Inspired by the rise in popularity of mobile video content, the new format was used for the launch of BritBox Original 'Why didn't they ask Evans?' this Spring.
Following the successful launch of new ad format 'Swipe Right' alongside Total Media last year, Picnic now brings 'Clips' to its social display solution offering. The novel mobile ad format allows brands to repurpose up to three video assets for the open mobile web in a 320 x 480 vertical 'reel' format. 
Inspired by the latest trends and high quality ad experiences of social media apps, the format is overlaid with engaging, interactive elements such as a heart reaction feature and record disc audio button. 
Post-campaign data has revealed that the format generated high levels of user engagement, with a long average dwell time of 11.9 seconds and an average CTR above industry benchmark of 0.47%. The new format has enabled Britbox to drive awareness among the target audience of TV drama and comedy fans in a novel way on user-friendly inventory outside of social media.
First aired on April 14th, 'Why Didn't They Ask Evans' is a three-part adaptation of the iconic 1934 Agatha Christie novel. The crime series stars the familiar faces of Hugh Laurie, Will Poulter, and Lucy Boynton, and is available exclusively on BritBox.
Holly McCann, client success manager of Picnic, says: "We've been working with BritBox for over two years, and always strive to keep our creative recommendations fresh and unique. When the client wanted to tap into a younger demo for a new launch we pitched the idea of building a brand new social display format to create a buzz around the new release. Our new clips format enabled the client to showcase vertical video clips in a reel style format that is intuitive to a younger audience. The success of this campaign highlights the power of social display paired with great targeting served on user-first inventory."
Alysha Solanki, display and programmatic account manager of Total Media adds: "Working with Picnic is always a pleasure, they are consistent and are always extremely helpful in terms of troubleshooting to achieve strong results. The new clips format exceeded all benchmarks delivering a CTR of 0.47% with a dwell time of just under 12 seconds! Fantastic results for our first time and we look forward to working with them again very soon."