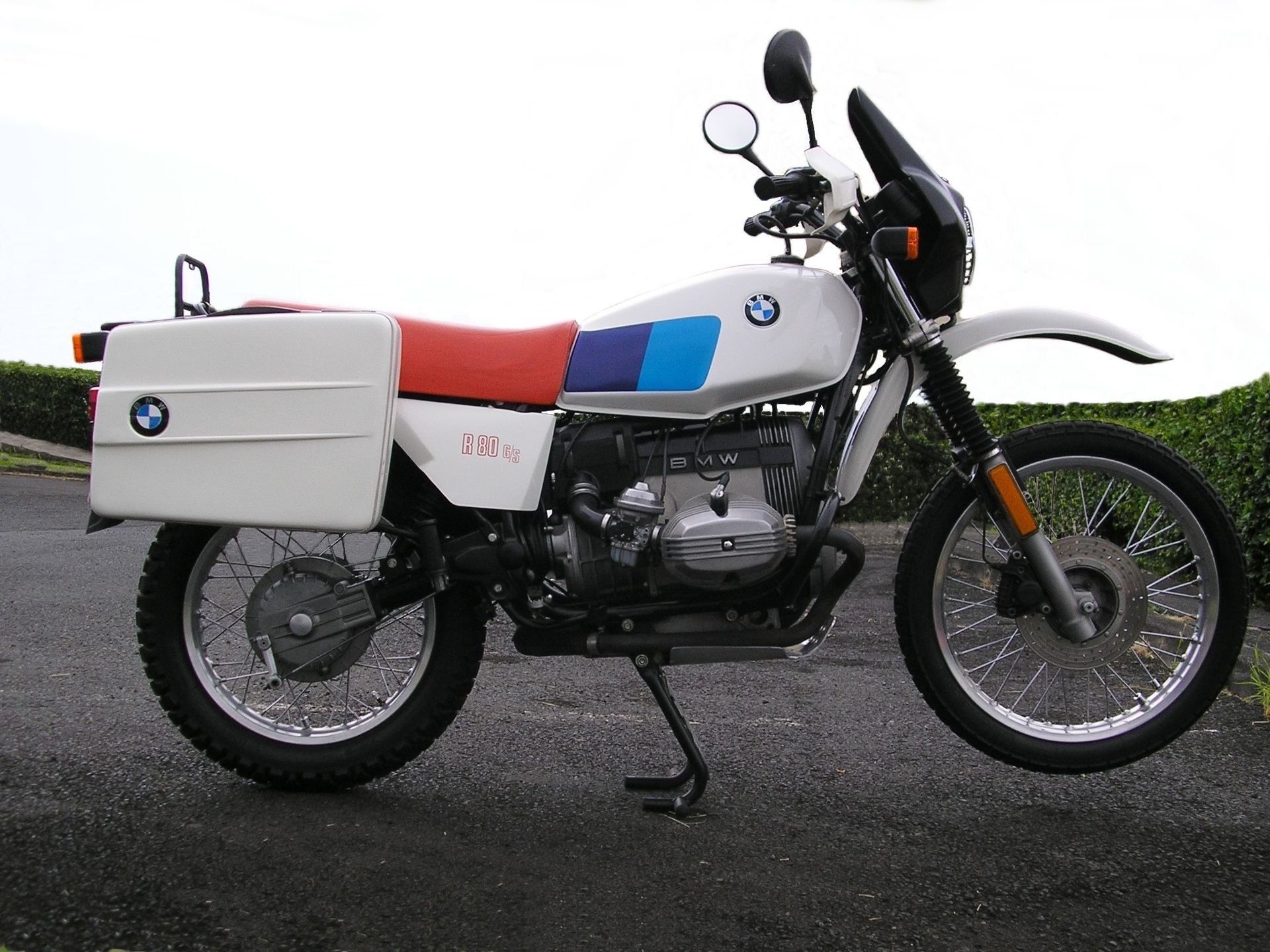 Last updated:
The past two years have seen something happen in the motorcycle market that hasn't happened for a while: motorcycle sales went up, instead of continuing down slowly. As well, motorcycle training courses have been fully booked up months in advance, and performance coaching schools that run track days have been seeing almost record attendance.
It's obvious that the global pandemic gave a lot of people a lot of time to think about things that are on their bucket list, or that they've always wanted to do but never had the time for.
Of course, this being North America, cruiser motorcycles are still way out in front in market share, and that doesn't look to be changing anytime soon. The next largest market share is, of course, sport bikes and supersports. Third is the grouping of bikes that fall under the umbrella "standard" term, but it is the dynamic within this third share that is rapidly changing in a surprising way.
For the longest time, the standard market was dominated by neo-retro and naked bikes, with dual sports and ADVs comprising only a small portion of the market, not even really accounting for a third of sales. Then, in 2021, all of a sudden, nearly half of all standard bikes sold, new or used, were ADVs, and there was also a related jump in ADV style riding gear. What's changed? Why the sudden jump?
Read on for our thoughts on why the ADV market is now the place to be.
Editors note: This post was updated on July 7 based on feedback we received from our readers and experts in the space. 
A Look Back: How ADV Motorcycles Came to Be
The terms "adventure motorcycle," "adventure touring," and "ADV" are all some of the most recent additions to the lexicon of motorcycle riding. Cruisers have been around since the birth of the motorcycle, sport bikes followed soon afterward, and then the universal Japanese motorcycle solidified the standard market into what it is. In fact, it wasn't until the early 1980s that the first proper ADV motorcycle showed up.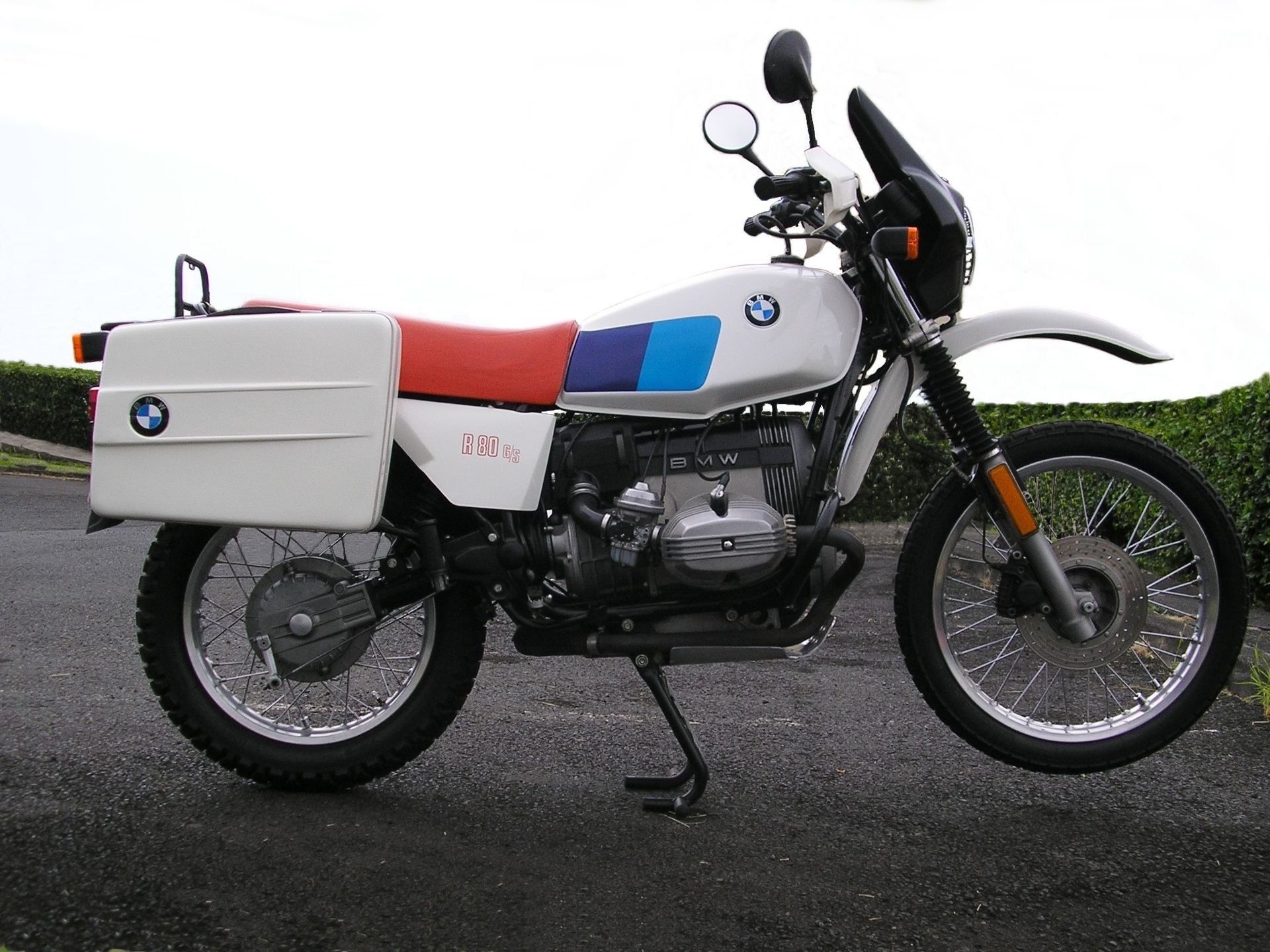 That bike was the 1980 BMW R80 G/S, which was shown at the IFMA Motorcycle Show in Cologne, Germany. It stunned attendees with its low but compact boxer engine, aggressively dirt-styled aesthetics, but also had a plush seat cushion and easy-to-reach, comfortable handlebars. It was marketed as a multi-terrain motorcycle "capable of any adventure," with the G/S in the name standing for Gelände/Straße, literally "Terrain/Street." With the marketing slogan and the bike's rugged looks, it was the first bike that took a proper stab at being an adventure bike.
Fast forward a few years, and while the BMW R80 G/S has had moderate success in Europe, it hadn't really found a firm foothold in North America. This was during the days of the rebound from the 1970s oil recession, and while pockets were filling up with cash again, "splurging" on a motorcycle from BMW, which at the time could cost the same as about ⅓ of a decent 3 Series was considered a waste of money.
The Japanese, however, saw the opening in the market, and they pounced. Suzuki brought the inimitable DR series over, being dual-sports in name but dirt-oriented ADVs in design. Yamaha Brought the TDM 850 over, a bike that was meant mostly for distance touring in comfort but could handle being off road. Both were excellent bikes, one more dirt oriented, one far more road oriented, but it was Honda that married the two concepts together into the very first Africa Twin.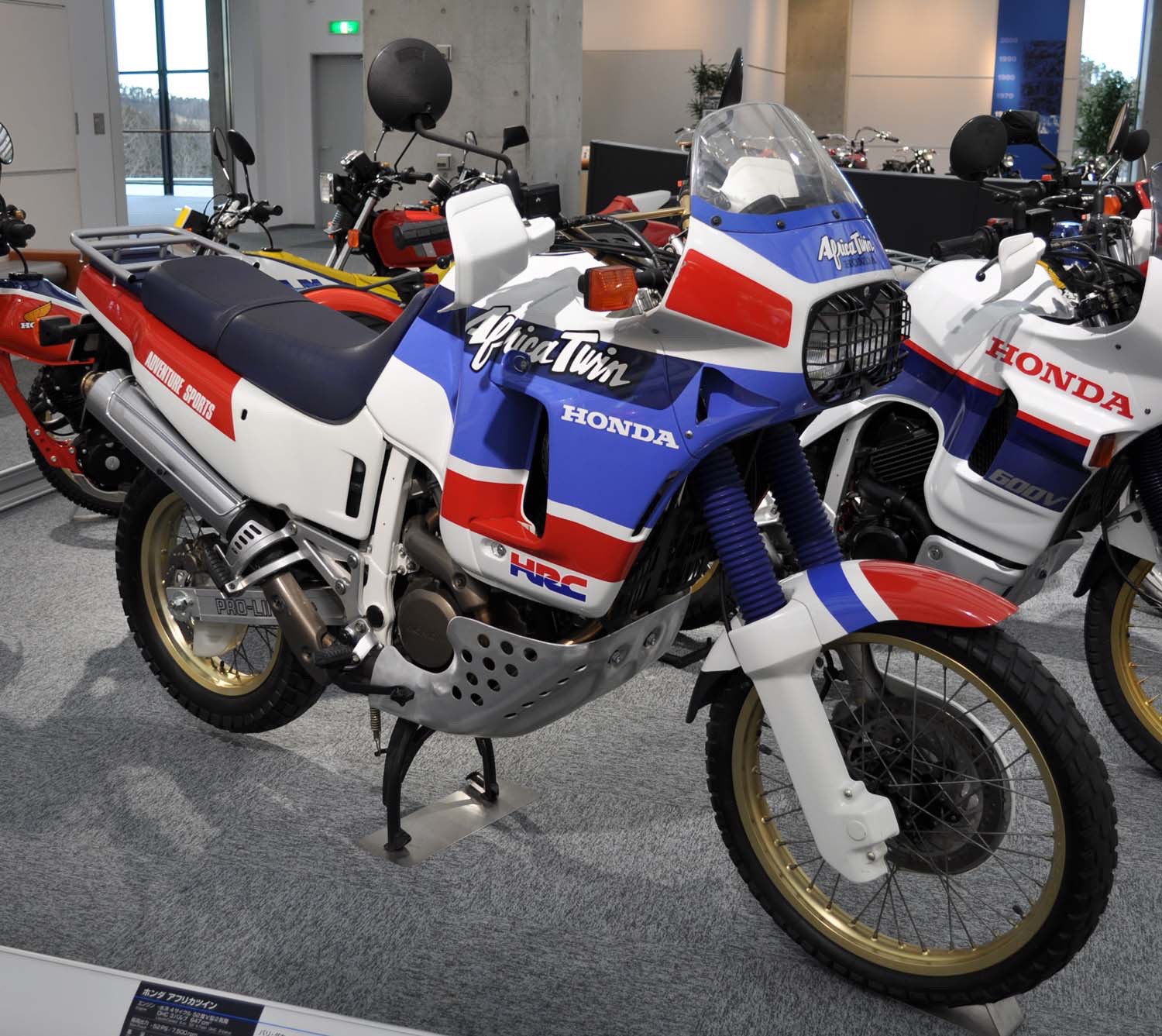 While BMW may have started the adventure motorcycle segment, it was Honda with the Africa Twin XRV650 V-twin Adventure Sports that planted the flag in the ground—which all ADVs now ride in the shadow of. Released in 1988, the bike was tall, narrow, with a high seat, high handlebars, an adventure windshield, and mid-mounted pegs. It had a steel bash plate under the exhaust headers and engine, had massive ground clearance, and was emblazoned with "Adventure Sports" under the thick seat cushion.
In recent years, the Africa Twin has made a comeback, with a 1,084 parallel-twin engine and, on some models, electronically controlled suspension. It is also one of the few ADV bikes on the market today that has a DCT automatic transmission as an option, something that has opened the door of ADV riding to many that have enjoyed DCT transmissions on street bikes and long-distance tourers like Honda's famed Gold Wing models.
The fact that the Africa Twin was both more powerful than any BMW of the time, as well as sold for significantly less, was the right combination at the right time in history. Sales of the bike almost outstripped supply, with many bikes going to wide open states like Texas, California, Arizona, and Colorado. The ADV had arrived in North America, and it was here to stay.
The market itself was further reinforced when the Europeans fired their next volley of ADVs. 1994 saw the BMW R1100GS, which moved almost 40,000 units total between 1994 and 1999. Its bigger brother, the R1150GS, moved 58,023 units in the same time period.
Aprilia launched the Tuareg 600 Wind at the very end of the 80s, finding moderate sales in Italy but not much anywhere else. Even Moto Guzzi got in on the fun, with the 1990 model year Quota 1000, an adventure motorcycle with their trademark transverse 1,000 cc V-twin.
Another key factor in the ADV market sector gaining a massive boost in popularity was that KTM, already known for their dirt bikes, released the 640 Adventure towards the end of the 90s. This bike was an instant hit, combining the off-road know-how of decades of experience, with a very streetable engine that was as at home on the pavement as it was off it. It also featured suspension by the newly-acquired-by-KTM Dutch company White Power (WP), who have provided suspension for every KTM since.
The popularity of the 640 inspired the Austrian company to bring out the 950 Adventure in 2003, and the 990 Adventure in 2006, two bikes that were key to the success of the ADV market. Not only were they more powerful than the 640 Adventure, they were the first V-Twins from KTM designed specifically for the off-road bikes, and gained the now legendary engine code LC8. THe 950 Adventure was the last KTM to use carburetors, as the 990 Adventure gained direct fuel injection, which reduced fuel consumption while also boosting power.
Around this time, in 2004 specifically, Ewan McGregor and his best friend Charley Boorman filmed, produced, and participated in the epic adventure documentary Long Way Round, using a pair of BMW R 1150 GS Adventure motorcycles. Riding on the popularity of McGregor's recent Star Wars fame among other things, the documentary series introduced an entirely new aspect of riding to many who knew nothing of it, or had only seen those strangely tall bikes with windscreens and wondered what they were for.
BMW enjoyed massive sales after the series came out, and it can be argued that the entire reason that ADV riding caught on to such an extent it did was because of BMW's sponsorship of Long Way Round. It showed that there were bikes out there that could carry a ton of gear, take some serious dings and knocks, and would fire right back up and keep going.
All of a sudden, ADV sales were through the roof, ADV meetups and rallies started to get organized, and the still-new website YouTube allowed for some of those who started to ride to film their exploits and make their own version of Long Way Round. In fact, there are some channels, to this day, almost a decade old, that are still only and completely about the adventures these "vloggers" (video bloggers) go on. One of the most popular, Itchy Boots from the Netherlands, has ridden across Africa, Europe, Northern Asia, and is currently riding up from the very tip of South America to the Northenmost city in Alaska, and documenting the trip as she goes.
It was made abundantly clear in the 1990s and 2000s, Adventure motorcycles had arrived, and they weren't going anywhere.
A Look Ahead: Why ADV Motorcycles Have Suddenly Become Popular
2021 was, in all senses, a rough year for the world. The economic impact of locking down the world in 2020 was starting to be felt, new variants of the virus that caused the pandemic were being discovered, and international travel was almost impossible. Vacations had to be canceled; in some instances, you couldn't even go outdoors unless it was for emergencies or if you were headed to the grocery store to get food and then head straight back home.
This led to both a surge in cabin fever, and the desire to just get out of the city, even if just for a day. Sure, you could take your cruiser out to the highway, you could take your sport bike to the canyons and ride the twisties, but you were limited by the road as to where you could go.
If there is one thing in abundance in North America, it's off-road terrain. There are deserts, forests, mountains, plains, from West to East and back again. The hills baked in the California sun outside of Los Angeles. The Mojave Desert trails in Arizona. Moab and the salt flats in Utah. There were places you could go and truly get away.
You had two options to get to any of these places. You could load up the back of your truck or trailer with a couple of off-road bikes, drive out, blast around for a bit, load up, drive back, and that was perfectly acceptable. But we who ride, we understand that sometimes the best part of the destination is the journey to get there. Having a machine that can carry you over the highways and country roads to get to those hills, flats, and trails, and then being able to ride them without even needing to change tire pressures just makes the ride all that much more fun.
Dual-sport motorcycles have the same capability, but the big difference between dual-sports and ADVs is that the latter was designed much more for the touring part of the ride. This isn't to say that a dual-sport can't handle touring, and indeed, there are bikes such as the Honda CRF300L that are thin-tire variants of "full" ADV bikes. With the right pannier lockers and top box, you could carry a tent, a small camp stove, food, extra clothes, rain gear, water and fuel with you, and spend a day or two outdoors, away from it all, on either style of bike. It mattered mostly how you wanted to go on your adventure, on a lightweight bike that could carry all your stuff, sipped fuel because it was a single cylinder, and get you through and around tighter obstacles, or if you wanted to have the high performance, full-on power, and multiple selectable ride modes that a "proper" ADV bike offered.
In fact, many of the most popular ADV bikes have found a way to strike a balance between the two styles, among them the revitalized Kawasaki KLR650. It's a single cylinder like a dual-sport, yet has power that matches many of the mid-range ADV bikes. It looks like a dual-sport, yet has a comfortable, thick seat and more than enough hardpoints to mount just about anything you want to it. It is one of those modern ADV bikes that is the best of both worlds, while leaving all the disadvantages of either style by the wayside.
The last piece of the puzzle that answers why the ADV market is surging is that in 2020 and 2021, some of the most anticipated ADV bikes arrived, and updates to existing ones year over year were just getting better and better. If you didn't get on the waitlist for the ADV bike you wanted, you were honestly out of luck for that year, and maybe even the year after. That is how much demand there was—and is—for ADV motorcycles.
No Longer Just BMW & KTM: Some of the Newest ADV Bikes on the Market
While BMW and KTM are the two big names in the ADV market, some other superb ADVs have launched in the past couple of years that have helped bolster the market even more by providing options that don't come with a badge premium. This is not to say that KTM and BMW ADVs are in any way, shape, or form bad bikes. Things like the BMW 1250 GS and the KTM 1290 Adventure R are some of the most premium, top tier bikes that you can buy in the ADV market segment. We just thought that some of the lesser known, but still highly anticipated ADV bikes should also be recognized!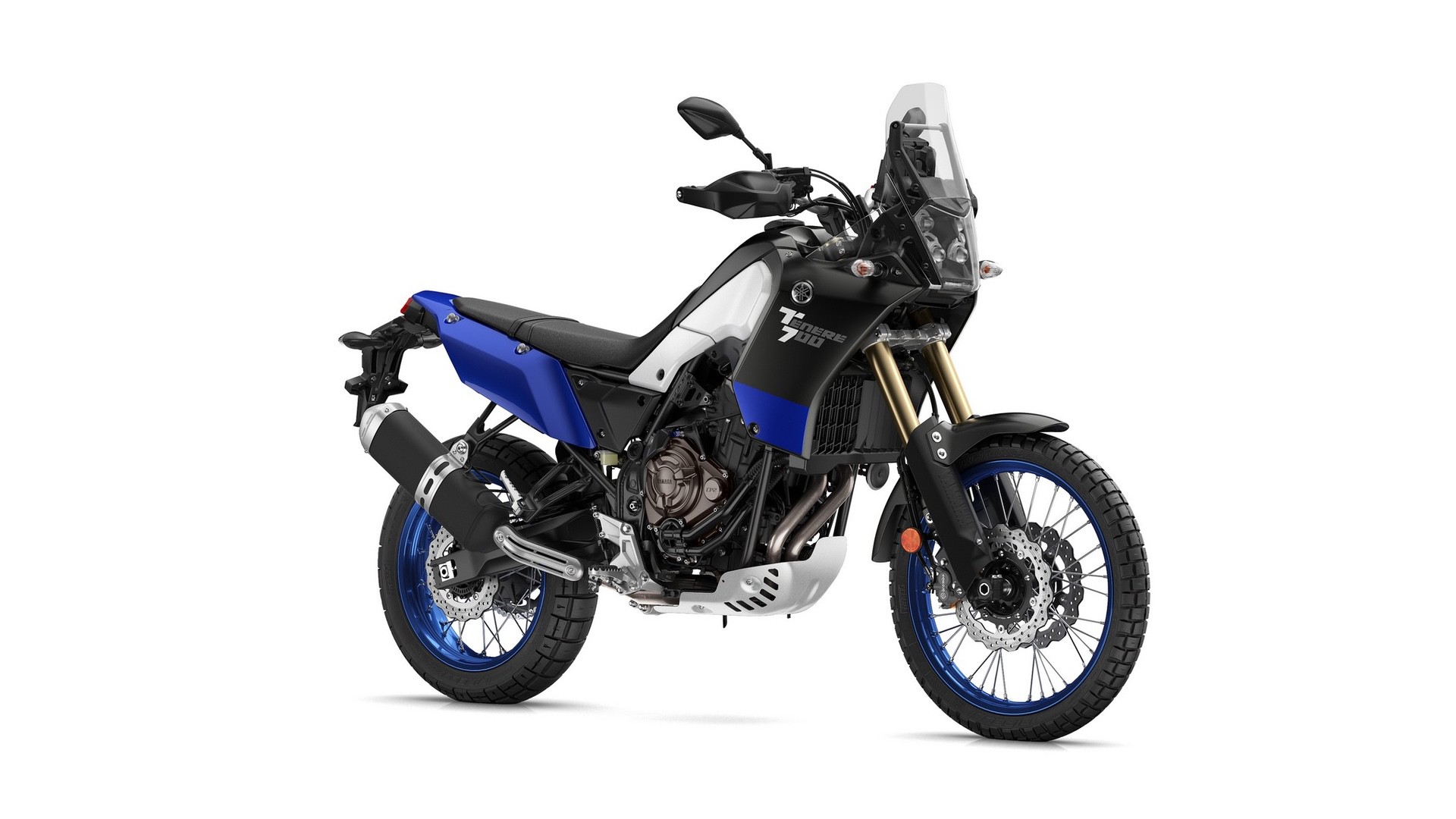 One of the most highly anticipated of these was the Yamaha Tenere 700, which finally came to market in 2021 after years of teasers. Using the proven, robust engine from the supernaked MT-07 sport bike, the bike adapts many of the features and successes of its big brother, the Super Tenere, into a much lighter, smaller frame. 
Extra ground clearance, a proper ABS disable button, and weighing in at just 450 lbs soaking wet, the bike is a no-nonsense, no-compromise adventure bike that is ready for any surface. It's just a convenient bonus (or more likely a really smart marketing and sales executive decision) that the bike sells for under $10,000… by $1. There are other budget ADV options like the Suzuki V-Strom and Kawasaki Versys lines, yet the excitement about the Tenere 700 was palpable for the past few years in a way neither of those other two could generate.
There is also word that a new version of the Tenere 700, known as the World Raid edition, is coming soon…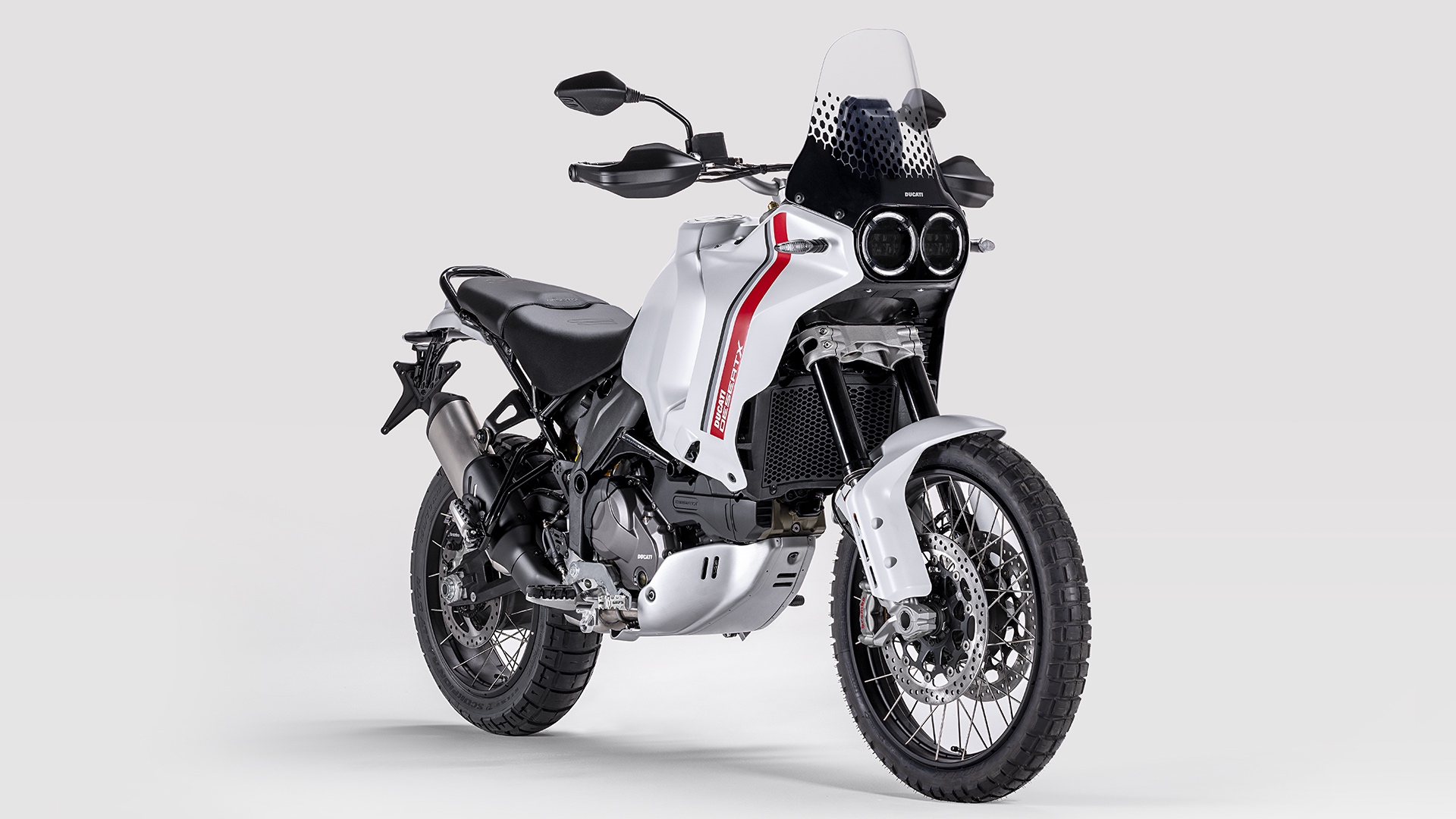 Ducati has also come out swinging in the past few years, with a refreshed, highly capable Multistrada lineup, including the range topping Multistrada 1260 Enduro, which is one of the most highly reviewed and popular heavyweight ADV bikes. If the Multistrada is their jab, the 2022 Desert X is their uppercut, a purist ADV bike that tosses the excesses of the Multistrada's more road-oriented equipment and instead, bulks itself up to absorb the bumps, jumps, and challenges of long-term off-road use.
Using the 837cc Testastretta L-Twin engine from Multistrada V2, it produces a whopping 110 HP and 68 lb-ft of torque, in a bike that weighs under 500 lbs. In case you were wondering, that's a good, healthy amount of power, and more than the equivalent rival bikes such as the KTM 890 Adventure.
It also, despite the shedding of the road-oriented bits, still carries the 6-axis IMU, ABS on/off switch, and even has a secondary fuel tank, giving the bike a total fuel capacity of 7.6 gallons for long distance adventure riding.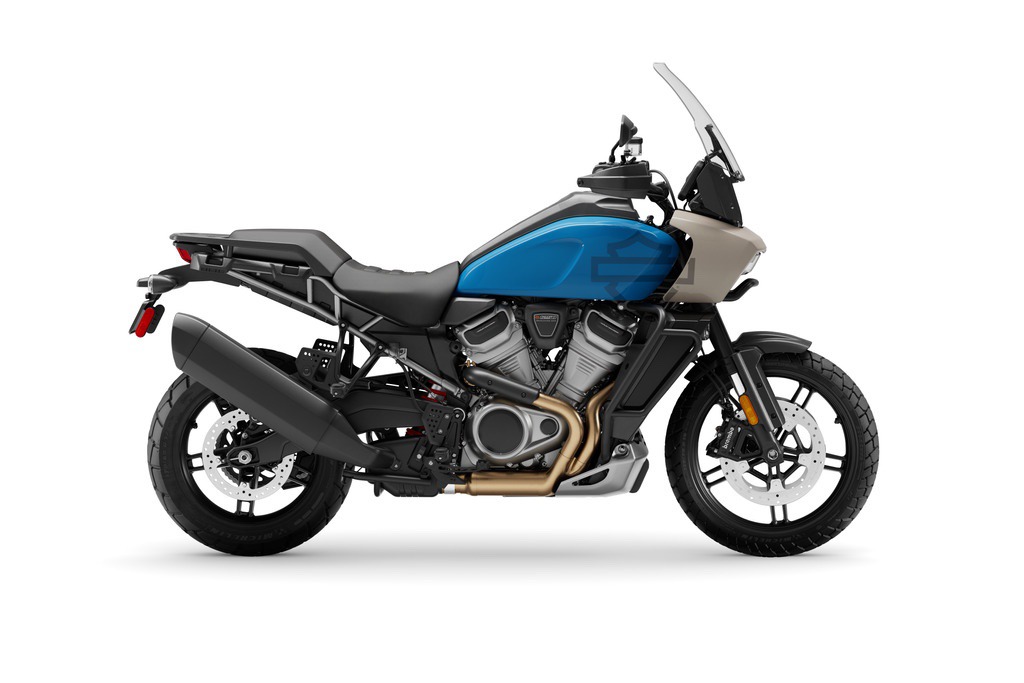 One of the most eagerly awaited bikes of the past year, however, was the 2021 Harley-Davidson Pan America 1250, the first attempt by the American company to make a true ADV bike. Harley has been talking a while about being in the ADV game since the first ADV bikes, but now they have something to back up the talk with. Taking the fight to the heavyweight crowd, it wades in with the Revolution Max 1250 V-Twin engine, which produces 150 HP and 94 lb-ft of torque. Compare that power figure against its wet weight of 540 lbs, and the bike starts to look even more promising. Harley has certainly doubled down on this gambit, producing a new Pan America for 2022 as well.
The big push with the original Pan America was with its technology package, which included semi-active front and rear electronic suspension, cornering ABS and TC, and an industry first, adaptive ride height, which would raise or lower the bike automatically based on the ride mode and what sensors were telling the bike. While it has had its fair share of teething problems, it has become an established bike in the 500+ lbs ADV listings, and has sold through at least 3,000 units since its introduction, which by any manufacturer's standard is good movement.
If we were to list every new ADV bike on the market, this article would be about 50 pages long, but those three listed above have been some of the most significant new ones arriving in the past 24 months. Others, like the Suzuki V-Strom lineup, the Kawasaki Versys lineup, Triumph Tigers, KTM Adventure… there are so many options it really is staggering.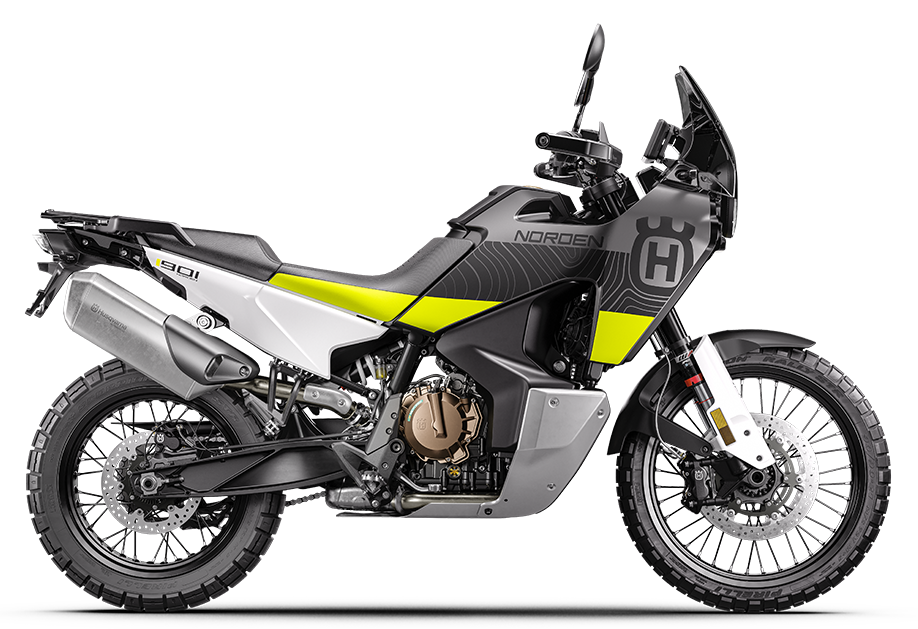 One bike that has been very much awaited and could possibly be the one bike to finally bridge all needs and wants between the dual-sport and ADV riders is the Husqvarna 901 Norden. While Husqvarna is well known as being under the umbrella of the KTM group of companies, and many would argue is a KTM 890 Adventure in a nice suit, the 901 Norden is its own bike. It has immense off-road capabilities, but with the flick of a riding mode switch, is a superb pavement tourer as if it was designed only for that job. Some have even called it a "unicorn bike," one of those fabled few that works everywhere, anywhere, and with a minimum of issues.
There has never been a better time to get a new ADV bike, and with the market expanding as fast as it is, it means that many more companies are focusing on the segment. We wouldn't be surprised to see more manufacturers wade into the fray, and in fact there are rumors abound that the recently resurgent Buell Motorcycles has an adventure tourer planned, a supercharged Africa Twin model may be coming if Honda's patent filings are to be believe, and even some of the new electric bike manufacturers like Damon Motorcycles are planning on making bikes that fall into the ADV and dual-sport categories.
Two electric bike companies already have some offerings, with the Zero DS and FX models filling in the dual-sport role, and the Italian company Energica now producing the Experia, designed as a pavement adventure tourer but with the slightest of mods and a few tweaks, is a more than capable fully-fledged ADV. Only the future will tell what eventually comes down the ADV pipeline, but the fact of the matter is simply: ADVs aren't disappearing any time soon…